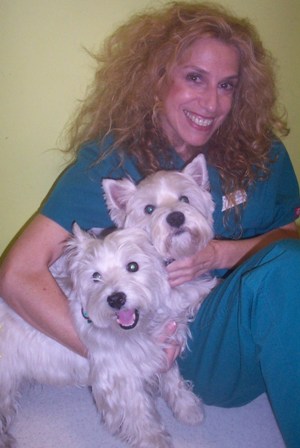 Meet D'vorah Joy
Owner/Managing Director of:

VIP PET CARE,
REIKI & MORE®
REIKI FOR PETS & PEOPLE®
(2005) With Brody and Lizzie (passed on) who were mother and son at Riverside Animal Hospital in NYC.

Basic Overview:
Born in, and for the most part, raised New York City. I have, nevertheless,
lived on several continents (speaking several languages) and I consider myself
to be a "global citizen."

Career Overview:
I am a trained Veterinary Nurse and Senior Exam Room Technician with over
twenty five years experience in the professional pet care industry.



Additional Experience in the Pet Care Industry:
Holistic Pet Care Counselor



Reiki (For Pets and People) Practitioner

P

et Groomer/Stylist

Canine Housebrea

king Consultant

Canine Behavioral Consultant
Professional Dog Breeder and Dog Show Handler
Canine Breed Advisor
New Owner Puppy/Kitten Counseling
Tidbits:
My primary career for many years has been in the Pet Care Industry,
with a focus on Holistic Healing. I am happiest helping pets to stay
healthy, and to regain their health when they are ill. Therefore, wherever
I find myself, location or otherwise, I will always love caring for animals!
On Animal Planet: While having the privilege of working as Head Exam Room
and Veterinary Nurse at Riverside Animal Hospital on New York's Upper
West Side, we were visited one day by the producers of show "K-9 Karma"
shown on the Animal Planet Channel. The episodes illustrated the benefits
of Animal Acupuncture. However, if you watch closely, right around the
4:00 minute mark, you just might recognize someone you know!
A BIG THANK YOU TO DR. K!
By the way, Dr. Steve Kasanofsky, DVM, CVA, was an amazing boss,
teacher, and mentor. I am so thankful for having the chance to work for
for such a terrific Veterinarian who has taught me so much, and who made
learning so much fun!
AND NOW TIME FOR OUR VIDEO, SO SIT BACK,
CALL THE DOGS, RELAX AND ENJOY!