This page is dedicated to my beloved "Merlin" the last of my Longhair Dachsies. Merlin went to Doggie Heaven on June 30, 2011. He will remain always in my heart and never forgotten.
I also miss very, very much, and never to be forgotten, my Jamie, (mother of Merlin) Brigid, (sister of Merlin) silly Chauncie (Pembroke Welsh Corgi) and Sherman (who was a Dachsie-Jack Russell mix) Loafer (very petite Longhair Dachshund) my amazing Gypsy, a fiercely loyal and loving Terrier/Shepard mix, Jakey (the best cat ever) and Minky (My aunt's Mini Wire-Haired Dachshund who started it all and made me believe that Dachshunds are the greatest small dogs the the world.)
Pictured: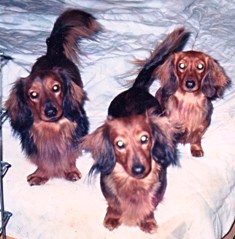 L-R Merlin,his Mama Jamie, (center) and his sister (littermate) Brigid.
NYC 1995.